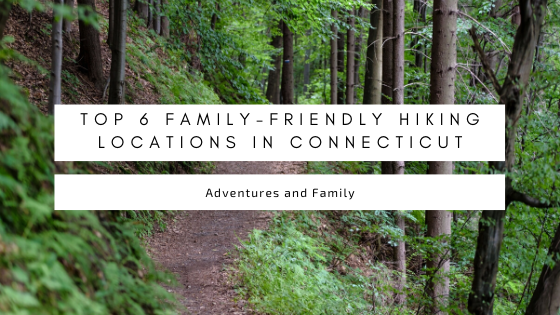 Top 6 Family-Friendly Hiking Locations in Connecticut
Family-Friendly Hiking Locations in Connecticut: My family and I love to hike. Now, that does not mean that we are super athletic (because we are not) or that we are crazy nature people (we hate bugs). We just like to see new things and spend time together as a family.
We find that going on hikes is the best way to spend time together as a family. It's a time that we get to actually talk to each other, and not worry about other things distracting us from each other.
It's also a great way to get some exercise! My husband and I both have desk jobs, so we do not get up and move as much as we would like too. My son on the other hand, is just one ball of energy! He loves to hike because he doesn't stop moving!
Below I will list my favorite places in Connecticut that my family and I like to go on hikes. All these hikes will be family friendly, so they will be great if you are just starting out, or you have little ones with little legs. Enjoy!
---
Kent Falls State Park– Family-Friendly Hiking Locations in Connecticut
This one is probably one of my favorites! Kent Falls has been a place that we have been going to for years. The waterfall os just beautiful! And even more so after a couple of days of rain.
There are a few trails here, and the one that we take is not long at all. We take the black/black and white trail up, and the red trail down (see map below). Although that only comes out to be just under a mile, about half of it is stairs going straight up! So even though this path is not long, it is steap. But it is worth it! Kent Falls is beautiful and not to be missed!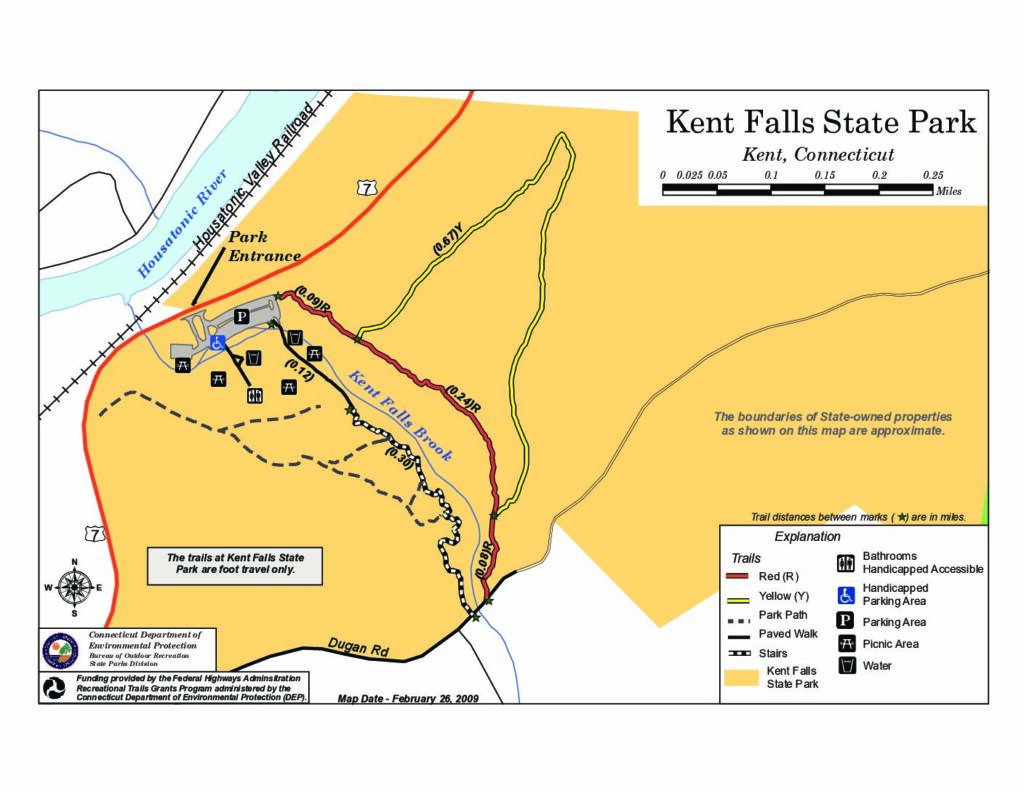 We also love having lunch at the foot of the falls, so make sure you pack a picnic!
---
Lilinonah Trail is a 5.3 mile and full of beauty! If 5.3 miles sounds like it might be to much for your family, dont worry! There is a cut through right in the middle of the loop (check out the map below) that makes the hike just about 3 miles then.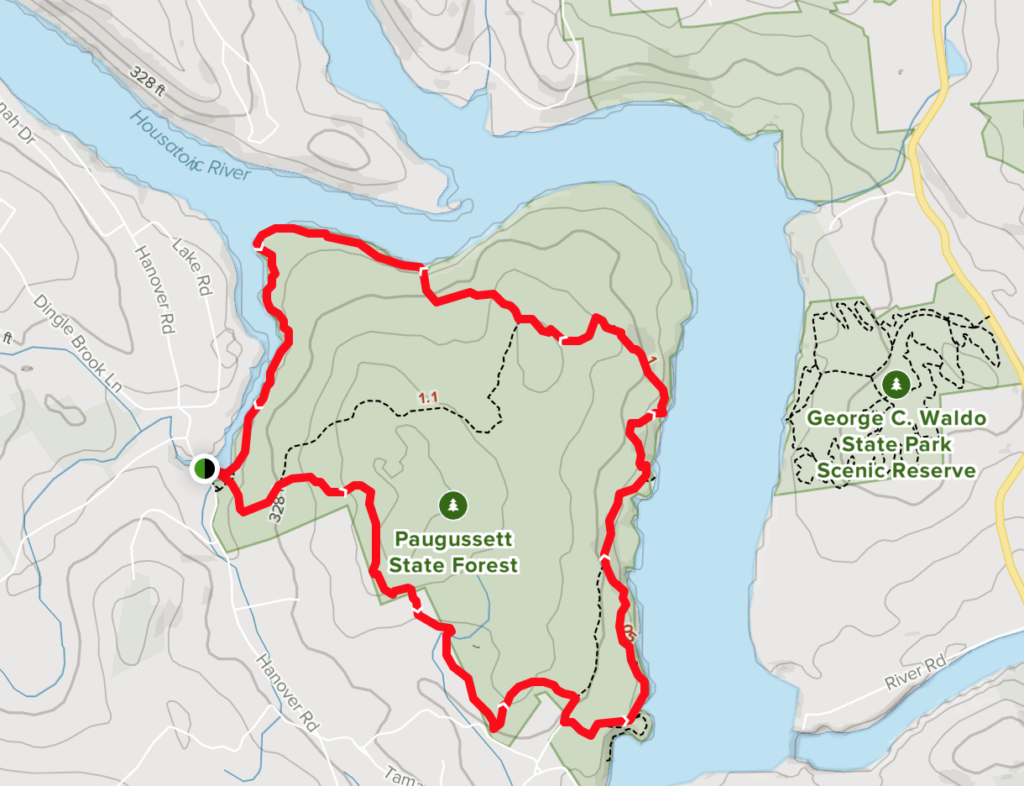 What I love about this trail is all the water. Half of the trail follows along the Housatonic River. There are a bunch to little streams that cross the trail the pour right into the river also! It truly is beautiful. But make sure that you wear shoes that can get messy because it can get muddy at times from all those streams.
---
What a great view! This trail is very short, only coming in at 1.2 miles, but the short walk up a hill and you will see views like no other!
We love this trail, especially in the fall when the leaves are full of color! This trail is again on the Housatonic River, so you know that it will be full of great views!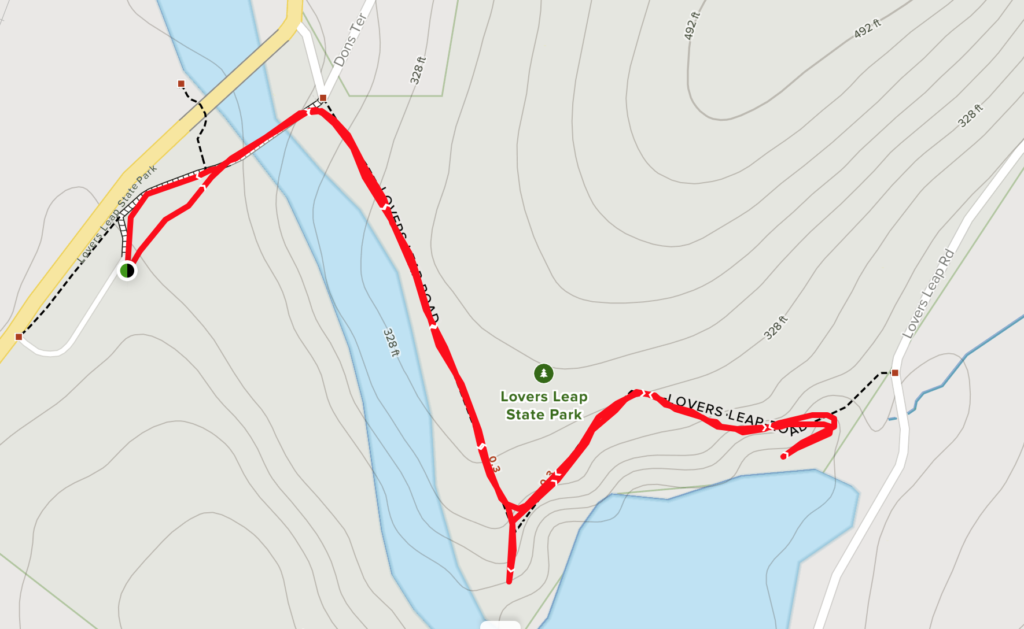 ---
This trail in Kent is right near the Application Mountains. So although this trail is more on the tamer side, if you are looking for more of a challenge, there are hiking trails not to far from here that will really give you a workout!
Bulls Bridge Loop is about 2.1 miles long, so for us its the perfect length. The neat thing about this trail is that the river that goes along this trail has rapids in it! Sometimes you will people kayaking down the river. It's pretty neat!
---
This trail is probably one of the most beautiful trails I have ever seen and one of my favorite family-friendly hiking locations in Connecticut! Disclaimer: This trail is 15 miles long! We only hike about the first 2 miles and then turn around and walk back.
Anyway, the first 2 miles are gorgeous! The trail runs along a stream which has beautiful little waterfalls! Also, we see quite a few signs of bevers enjoying this trail too.
---
Bear Mountain Reservations has so many trails to try! I have been coming here for years now and I still feel like I see something new every time we go for a hike. Along these trails, you will see great views of a lake, little streams and ponds, and some fun wildlife!
Our favorite path is the red on (see map below). We just like the nice big loop. If you do the red loop, take a detour a walk down the orange path to the lake. It can be a little steep, so beware of that. B ut the view is so pretty from there!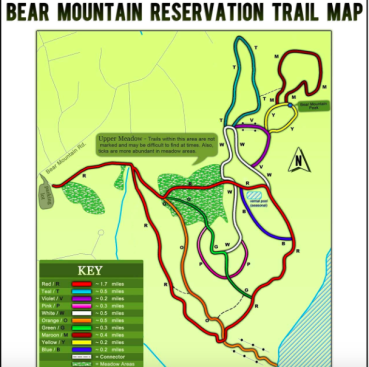 ---
So there you have it! Our top 6 favorite family-friendly hiking locations in Connecticut. Have you ever been to any of these trails? Do you have a favorite one that's not on the list? Let me know in the comments down below!
Want to know more about me? Then click here!
---